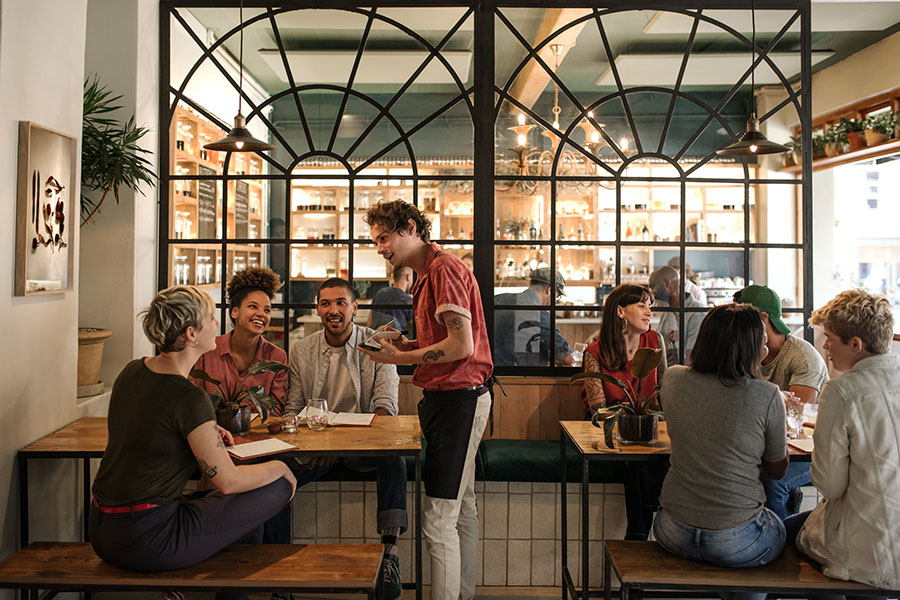 The restaurant industry is always evolving. Since the industry entered the digital age, its evolution has only sped up. With new customer demands come new innovations that help restaurant owners meet them. In order to keep up with the competition, smart business owners are leveraging these solutions to meet growing demand. Here's how technology can help your restaurant operations:
Restaurant Technology to Invest In
Industrial PC
The PC you use plays an important role in your operations. To withstand the demands of your industry and the rigors of your environment, you'll want to go with an industrial PC over a commercial option. This will ensure you have optimal performance, and can scale as you grow.
Capacitive touchscreen
Touchscreen technology is the way to go, but not all touchscreens are the same. Capacitive touchscreen technology is more durable, yet more responsive at the same time. The display has a higher contrast, making icons easier to see, and the increased sensitivity means it responds to touch almost instantly.
Tablets
Tablet POS offers mobility that stationary terminals don't, which is useful for increasing table turns and improving customer satisfaction. However, consumer-grade tablets aren't built to withstand a busy environment like a restaurant. You'll want to invest in a rugged tablet built for your needs.
Peripherals
Depending on your operation, you may need a number of peripherals. These can include barcode scanners, displays, PIN pads, and other add-ons.
How a Restaurant POS System Streamlines Operations and Reduces Costs
Restaurant POS is designed to help you run a better business, from sales, to labor, to inventory. There are a number of ways that a restaurant POS system will streamline your operations and improve your bottom line.
Optimizes labor
With a good restaurant POS system, you can make sure you have the right number of staff on-hand for your operations. It makes it easy to forecast your labor needs, create schedules, and monitor employee performance. This cuts costs by ensuring you always have enough employees to handle the demand, without running the risk of being over-staffed.
If you have multiple locations, you can use data from your POS to assess how each location with similar metrics is comparing, so you can make any necessary adjustments and cut costs associated with over-staffing.
Manages inventory
Inventory mismanagement can easily eat a large chunk of your profits. Restaurant POS prevents this by helping you identify sources of food waste, forecast your inventory needs, and generate warnings when stock is low so that you can replenish stock before you run out. You can also prevent over-ordering so that your ingredients don't spoil before you have a chance to use them.
Restaurant Business POS Software
When you're deciding which software you want to use for your restaurant POS, you'll want to ask yourself a few questions to help you identify the best option.
What are your must-have software features?
Do you need an online ordering solution? What about mobility? Are you looking for a POS that can scale with you? Perhaps you're looking for one that allows you to access important information and monitor your business while you're on-the-go. Identifying your needs is the first step to determining the best options for your business.
Which restaurant POS software is being used by your competitors?
Your competitors can give you a view of where your tech infrastructure stands and what solutions you need to invest in to get ahead. Look at the way they are running their business and whether they are succeeding in areas that you may be lacking. If so, it may be because the technology they have implemented is more advanced than what you have.
Training and support for your options
You have enough on your plate as it is. The last thing you need is to be left high and dry after your purchase, figuring out how to train staff and troubleshoot when problems arise. You want a team of industry experts that can offer you both on-site and remote support, training, installation, and repair.
Digital/Multi-Channel Impact
Customers have come to expect a variety of channels to do business with your restaurant, and you can bet that your competitors are delivering these options. In order to stay ahead, you will need to leverage technology to help you meet these demands. At the very least, you will need to offer the three most common ordering platforms:
Beyond just offering these options, you will need to ensure you meet customer expectations for a seamlessly-branded experience across all channels.
The best way forward is to tailor your online and mobile ordering to match the branding you have in-store. You'll need a solution that integrates online and mobile ordering with your POS. This offers many different benefits, allowing you to:
Grow and strengthen your customer base
By offering these options, you are putting your restaurant and your menu where people can easily view them: online. You can leverage online ordering to gather critical data on customer preferences and use it for marketing campaigns to keep customers coming back. Targeted coupons help incentivize new customers, and builds loyalty with existing ones.
Grow your revenue
An additional channel directly translates into an additional revenue stream. With online ordering, you can target and capture a customer base that may not otherwise engage with you. Online ordering also helps increase ticket size by giving you more opportunities to upsell and cross-sell.
Increase your productivity
Online ordering allows your employees to spend less time taking orders over the phone. Furthermore, it sends orders directly to the POS, which eliminates order errors from busy employees that have to enter information into the POS while they listen to customer calls, effectively cutting costs and food waste.
Improving the Customer Experience
A successful business thrives on positive customer experiences that promote customer loyalty. Restaurant technology can help you achieve this by equipping your business with the tools you need to improve your customer experience.
Loyalty and promotions
It costs more to bring in new customers than it does to keep the ones you have. Loyalty and promotions can help you retain customers. They can also provide essential data on customer preferences to help you make targeted promotions that increase sales, as well as customer satisfaction.
Equip associates with the right tools
Tablet POS offers many benefits, allowing servers to take orders at the table and transmit them directly to the kitchen. It can also be used to let customers pay at the table—a method that has proven to increase table turns and improve service.
You can also use self-service kiosks to bust lines. These give customers the ability to enter their own orders, cutting down on order errors and saving time during the ordering process. Self-service kiosks can clue customers in on more options for order customization that they may not have known about otherwise. This allows them to have orders prepared to their exact preferences, which means happier customers and shorter lines.
Inter-generational service
Not all customer demands are the same. If you don't know how to reach different demographics, you won't be able to meet their demands. Most restaurant owners are familiar with reaching baby boomers and generation X, having years of practice. But new, younger generations are quickly gaining purchasing power, and restaurants need to understand how these customers differ from the ones they're used to.
Millennial's, and now Gen Z have been raised on digital technology. They prefer online ordering options, mobile apps, loyalty programs, and personalized offers. Make sure you employ technology that can deliver these experiences.
Restaurant Marketing and Customer Engagement
Without a doubt, the best marketing you can get is word-of-mouth. Diners trust the opinions of family and friends much more than advertisements, so savvy restaurant operators are including customer feedback into their restaurant branding strategy. You can leverage social media as well as pages like Yelp, where customers can leave reviews.
Trademarks
You'll want to make sure you obtain a trademark for your restaurant's name. If you have the funds, register your logo, too. Once you obtain that trademark, make sure you can maintain tight control of it in social media channels and pages that are registered with your trademark. This prevents other restaurants form co-opting your customer base.
Customer engagement strategy
One of the most important things you can do to set yourself apart from the competition is to Restauranthave an effective customer engagement strategy in place. This fosters both new and repeat business, keeps your brand top of mind, and helps you better understand customer behavior.
You can leverage data from your POS and integrated loyalty solutions to help you determine the most effective strategy. Strategies can include tools like beacons and geofencing technology to push targeted offers to customers who are nearby. You can also introduce card-linked offers like cash-back deals that are connected to customer cards.
The Best Technology for Your Business
Overall, the best strategy is to use a combination of different restaurant technology solutions to improve your operations, satisfy customers, and increase profits. Touch Dynamic offers a wide variety of technology solutions created to help restaurants stay competitive and optimized. For more information on restaurant POS technology, contact Touch Dynamic today.
Running a Successful Restaurant
In this day and age, retailers are faced with the never-ending task of staying competitive, which can become complicated when trends and preferences are always changing and evolving. Fortunately, you don't have to do everything yourself. Restaurant POS technology has become so advanced that it can automate many tasks, improve customer experience, and provide the right data to help you grow your business.
Touch Dynamic offers powerful, reliable restaurant POS systems that are hand-tailored to your industry. For more information on how we can help you run a better business, contact us today.