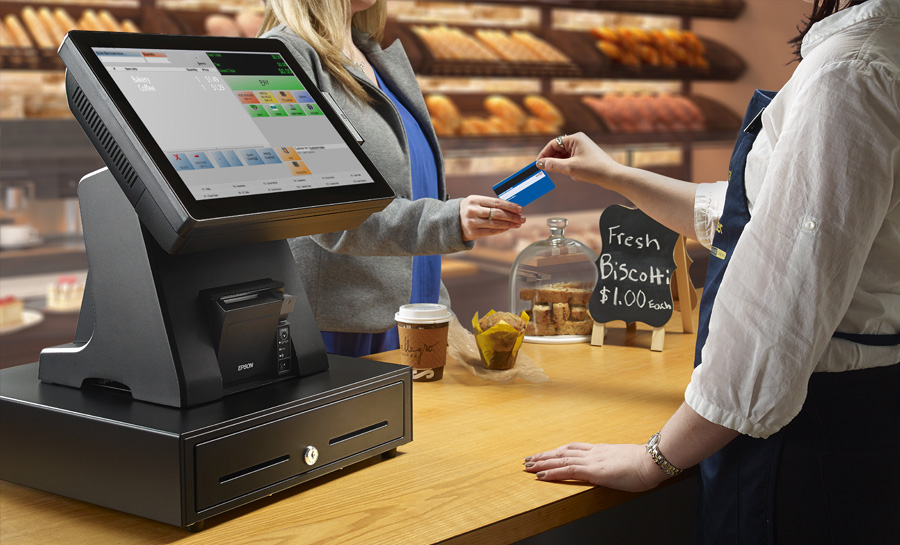 Point of sale (POS) solutions come in an endless supply of configurations, designs, and feature sets. Not all POS systems are created equal, however, and selecting the right one for your business is important. While some of the older legacy systems have been popular, users have experienced issues with finding the best combination of hardware and software.
Enter: the all-in-one POS system.
What is All-in-One POS?
An all-in-one POS is the industry's answer to the problems of past systems. These combine terminal and touchscreen POS hardware and software all into one simple package for simplicity and performance.
These systems are perfect alternatives to traditional cash registers and credit card readers. They go above and beyond by providing all the hardware and software that a business needs to carry out essential functions, streamline operations, enhance productivity, and grow business.
Business technology is complex, and if yours requires multiple industry-specific features and functions, you may have to deal with a complex web of software and hardware providers to get all of your needs taken care of. Should an issue arise? Prepare for even more complications, trying to determine which provider to call and which component is at fault. However, with all-in-one POS systems, you can simplify your technology and keep everything in one place, through one provider.
Overall Advantages of All-in-One POS
Convenience
While some businesses with unique needs may require more components, all-in-one POS systems usually include a touch screen, receipt printer, cash drawer, and card reader. Peripherals can be added to customize the system and add additional functions as needs evolve, but even with the peripherals, the simplicity of the all-in-one system offers much more convenience than purchasing individual components separately and then piecing them together.
Ergonomics
Some POS systems tend to take up a lot of prime real estate on the counter, but all-in-ones have a smaller footprint for a cleaner, more spacious counter. A cluttered counter space doesn't just make it more difficult to work, it gives off an impression of disorganization to customers. All-in-one POS systems keep counters clean and orderly.
Ease of use
Most all-in-ones are designed to be simple and easy to use. When you go through a single vendor for all your hardware, software, and peripherals, you ensure everything is compatible and functioning optimally. Manufacturers design each and every component to operate seamlessly together, and they can all be used through the same interface.
Lower long-term cost of ownership
Some business owners like to shop around for the most affordable options when it comes to each component, but in the end, you get what you pay for when it comes to usability, integration capabilities, and performance. While all-in-one POS systems may seem more expensive up-front depending on their features and peripherals, they are much more cost-effective to maintain in the long run, requiring servicing and maintenance from a single manufacturer.
Why Do All-in-One POS Ergonomics Matter?
When it comes to selecting the technology you use, make sure ergonomics doesn't fall too far down on your list of priorities. While it's an easy thing to overlook, the ergonomics of your hardware is actually quite important.
Bigger is not better
For POS, choose "brains" over "brawn." You want your solution to have a large range of functions and features, not a large footprint. An all-in one POS system provides full-functionality in a small, compact design. This means it can fit just about anywhere, without sacrificing any capabilities. The extra counter space will give your staff more room to work, and allow them to be more efficient when carrying out transactions.
Cable management
Not only does a bulky system crowd the counter, all of the cables add to the mess. Proper cable management is a must-have for all systems. The right all-in-one POS will have features that allow for easy cable management.
This helps with organization, as well as function. When cables are all over the place, and you have a busy environment, eventually one of the cables is bound to be pulled out of place, potentially causing downtime as the cable is re-connected, and the system re-starts. If it is pulled hard enough, it could also cause damage to the port or the cable itself, so this design element is definitely worth considering.
Benefits of All-in-One POS for Small Businesses
Small businesses are faced with some tough obstacles when it comes to growing their business. Large chains often have access to more resources, but small businesses have to be very careful and selective when it comes to which technology they choose. For this reason, all-in-one POS systems are ideal for the many benefits they offer.
Durability and life expectancy
While there is no guaranteed life expectancy for any technology solution, all-in-one POS has each of its components manufactured by the same vendor, so each peripheral will be optimized for that system, which increases its efficiency, as well as its life expectancy.
Overall cost of ownership
The long-term cost of an all-in-one is lower than that of other, less rugged systems. For small businesses, long-term cost is one of the major deciding factors when choosing a system. Having one vendor provide all maintenance services is less expensive in the long run.
Scalability
The right technology is designed to help you grow your business. After you experience that growth, however, that technology needs to be capable of scaling with you. Scaling a traditional POS system isn't easy or cost-effective.
By contrast, an all-in-one POS system is configured to accommodate any growth that occurs after it has been deployed. Additionally, you can go through the same vendor for smooth integrations.
Selecting an All-in-One POS System
Every business has its own individual needs, and not every all-in-one POS system will work for every industry, but there are a few qualities that are universally essential:
Field serviceability
No form of technology will work flawlessly forever, and at some point, you will need to have your solution serviced. Not only should your POS be capable of addressing your needs, but service offered by your provider should fit your needs. In a busy environment, downtime is detrimental to the bottom line, so look for a viable all-in-one POS system that can be serviced by a field technician on-site.
Upgradeable
As needs evolve, so does technology. Any time you experience growth, your technology will need to change and adapt to fit these new needs. Similarly, the industry as a whole changes frequently to accommodate customer interests and rising competition. When this happens, you want to make sure your POS is designed to allow for these changes.
Add-on features
You never know what the future may hold. While a basic all-in-one POS system may be perfectly suited for your business now, that may not always be the case. A good solution will allow you to add new peripherals and features as needed.
Choosing the Best POS Peripherals for Your All-in-One
Some businesses may already have a need for additional peripherals. If that is the case, it's also important to ensure the peripherals you select are ideal for your operation, and your all-in-one POS system is capable of supporting the peripherals you need.
Barcode scanner
If you work with barcodes at all, it's essential that you have the right barcode scanner. Do you only scan linear barcodes like UPCs? If so, you will need a 1D scanner.
On the other hand, if you scan loyalty and promotion codes like the multi-directional ones found on customers' phones, a 2D scanner is ideal. If you work with both, choose a 2D scanner that can also scan 1D barcodes.
Labor management tools
Depending on how many people you employ and what your turnover rate is, your labor management needs may range from simple to complex. Do you need an all-in-one POS with peripheral options for biometric finger print readers to enforce schedules? Do you need extra security to protect against employee theft? If so, don't neglect incorporating these peripherals into your solution.
LCD screens
Is your all-in-one screen sufficient? If you want to offer things like self-service or digital signage, you may need additional screens. Do you need a touchscreen that reacts to multiple types of touches, like a resistive screen, or do you need easy, flexible operation and high-accuracy found with a capacitive touchscreen?
Payments
Also consider how your customers prefer to pay, and what level of security is best for your business. EMV is essential for protecting you and your customers from card-present fraud, as opposed to a standard magstripe reader. Going beyond cards, you may want to consider an all-in-one POS system with options for near-field communication (NFC) technology as customers switch over to mobile wallets.
Scales
If you run a grocery retail store or any business that requires weighing merchandise, you will want to verify which standards for scales apply to your operation. If you buy, sell, or charge based on weight within the US, you must use a "legal-for-trade" scale. In which case, your all-in-one POS should be capable of supporting the correct peripheral.
Still Unsure?
Even after you have assessed your needs and researched many different all-in-one POS systems, you may feel overwhelmed with options and unsure which to choose. It's helpful to consult with POS experts and providers, who have a wealth of industry knowledge and experience, for advice on which solution would best address your needs.
Touch Dynamic's team of professionals have decades of experience and can help guide you along the process of finding the best system for your business. Interested in learning more?